Historic Roofing
We treat your roof like it's ours.
In the city of Charleston, much of the building stock is governed by historic districts of one sort of another and the covenants that accompany then designed to maintained the city's historic flavor.
Nearly everything below Calhoun Street is part of the Old Historic District, where every external change to an edifice is subject to approval from the Board of Architectural Review (BAR). The Old City District covers King and Meeting streets all the way up to the Crosstown. The buildings on these streets are subject to fewer restrictions on what can be done. The roofs of many historic buildings were key part of their aesthetic appeal, and thus are subject to some design and material limitations. Consequently, before repairing or replacing a roof on a historic house, it's wise to consult with experts.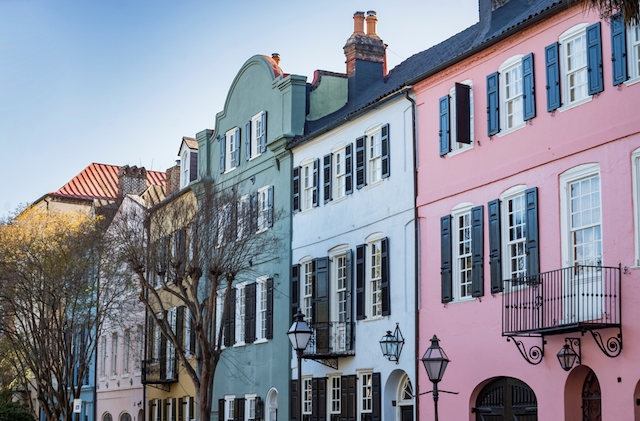 Here are five things the homeowner of every historic house needs to know.
1. No Matter How Old, It Needs to Protect
Roofs in every era and in every architectural style retained a primary function of providing protection against the elements. Even the most beautiful roof that fails this test is worthless.
2. Historic Houses Didn't Use Asphalt Shingles
The common asphalt shingle of today made its debut on America's roofs in 1901, long after most of Charleston's historic houses were built. The following are the most common type of shingles on historic houses:
• Clay Tiles – European settlers used clay tiles from the time of their first arrival at Charles Towne Landing in 1670 until about the mid-1800s. Flat tiles were nailed in or secured by pegs and mortared together to keep out the wind and rain.
• Slate – Durable and fireproof, but expensive, slate was particularly popular on Gothic Revival homes of the rich and famous in part because it comes in many shapes and sizes.
• Wood Shingles – The common man's roofing material, wood shingles come in all shapes and sizes. Here in the South, most wood shingles were cut from the plentiful cypress and oak trees. They were the first shingles replaced by asphalt because wood is not fireproof, which became abundantly clear during the great fire of 1838 and then again during the Civil War.
• Metal – During the 1700s and 1800s, copper was used on the many domes and cupolas that dot the Holy City. Corrugated iron, tin and zinc were also used for roofs, but they retained heat in the days before air conditioning.
3. Expertise is Required to Work with These Materials
In order to locate the problem area in an historic roof, it is important to work with a roofing contractor experienced in the special nature of the material being used. A roofer familiar with wood shingles would know never to cut across the grain, which invites the infiltration of moisture. Metal roofs can corrode or rust if not painted or plated thoroughly. Slate and tile are nearly impervious to weather, but can crack when walked on.
4. Should You Repair or Replace?
The Board of Architectural Review always prefers repair to replacement when possible. Generally, the BAR will require repair if more than 10% of the original material is still intact. If a roof must be replaced, like materials must be used to maintain the roof's historic character. Quality roofing contractors know that the notion of "rustic" or "distressed" materials being used in previous centuries is purely fanciful. Craftsmen of earlier times took great pride in the quality of their handiwork and went to lengths fashioning tiles and shingles that were symmetrical and perfectly duplicated.
5. You Need a Contractor Who Has Spent Time at the B.A.R.
The Board of Architectural Review has dominion over renovation of historic homes, so knowing its rules and preferences is extremely important. Homeowners should ask roofers if they have experience working with the BAR. Good contractors that can anticipate the BAR's requirements generally get their plans approved quickly by BAR staff without requiring a full hearing by the BAR.
Palmetto Roofing is able to resolve any issues associated with this historic roofs. From roof repair, to storm damage, to replacement, they specialize in maintaining, preserving, and doing what's necessary for business and homeowners who enjoy this charming feature. Find out how they can help you with your roofing needs. Call 843-801-9227 or visit PalmettoRoofing.com.
Process is everything to us here at Custom Homes
We are always happy to meet whatever your needs are. We know that each project is different and demands different attention. Flat roofs are a very important aspect of Charleston's unique charm- the Custom Homes team is uniquely qualified to handle these special projects & help preserve our beautiful skyline!
Contact Custom Homes Constuction Design, LLC Today & Request a Quote.