Roof Waterproofing
We treat your roof like it's ours.
Custom Homes is hydro stop certified and has a time-tested process.
Lowcountry conditions can be hazardous for your roof, and we want to set your mind at ease with the knowledge that whether a storm is coming or it's a particularly rainy day, you will stay dry inside your home.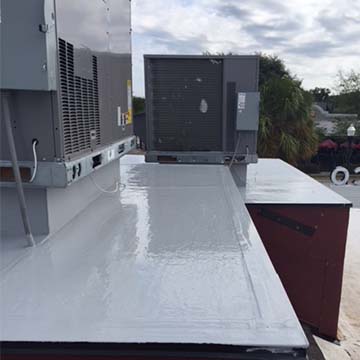 "The roof is a commercial building's first line of defense from natural hazards such as wind, rain, fire, hail, ice, snow, and extreme heat. It is also the most vulnerable part of your building. Every day, your roof is exposed to weather and other elements that may contribute to decay and deterioration, increasing the risk of damage to the roof itself and the contents below it." 
Process is everything to us here at Custom Homes, it is how we deliver our clients unrivaled quality.
We begin by scrapping the old metal and paint, and follow with a pressure wash. Next is the fabric and foundation in the seams, the 6-inch hydrostop application, and a 3-in-1 wired center, replacing all rusted screws to insure roof security. The process is finished with a finishing coat and a 10 year warranty to put your worries to rest.
Contact Custom Homes Constuction Design, LLC Today & Request a Quote.